Mariam's Interview with Dr. Vivian Sultan
Introduction.
Dr. Vivian Sultan is a 46-year-old Egyptian woman who is a professor at California State University and also a consultant for Edison Power Company. She is my mother's best friend and truly one of the most hardworking and determined women I have ever met in my life. When we discussed a white man's world, I knew I wanted to talk to Doctor Vivian because of her poor experiences with her white male bosses and colleagues. In this interview, she discusses who inspired her to make a change, her career, and her transition from Egyptian culture and stereotypes to become a successful woman of color in America.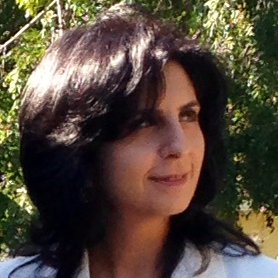 Early Life.
Dr. Vivian grew up in Egypt, the daughter of a mother who was a doctor and a father who spent most of his career traveling. She used to spend most of her time as a child with her mother at the hospital, watching her take charge and save people's lives. Vivian saw her as a role model, and she knew that in the future she also wanted to positively impact people's lives.
"So I grew up wanting to do something valuable, like what my mom did. To be able to help others, to make a change, to be a person who would add value."

Dr. Vivian Sultan
She noted the discrimination faced by women who identify as Coptic Orthodox in a predominantly Muslim country. Because of her gender and the high chance of being discriminated against because of her religion, she immigrated to the United States after she graduated from college, along with her son and husband at just 19 years old. She was lucky enough to have her parents immigrate with her and help her with her first child, Mark, and later with her younger son, Danny.
"Feeling like you were being not only discriminated against, yeah, because you're a woman but because of being a Coptic Orthodox woman…I thought it would have been much more difficult for me if I would have stayed in Egypt. I am not sure if I would have been successful, as I'm successful here."

Dr. Vivian Sultan
Education.
Dr. Sultan completed elementary school, grade school, and high school in Egypt. She continued to get an education at the American University of Cairo where she received her bachelor's degree in Economics and a minor in Business Administration in 1997. She realized that her chances of success and impact in Egypt were slim for a number of reasons: her gender, her religion, her connections, and Egypt's advancement.
"In Egypt, that's very corrupt, too. So to get a job, it wasn't just because you're good. And you have a good credential. And you are, you know, you're qualified, you know, you had to have a good connection."

Dr. Vivian Sultan
Immediately after, Vivian moved to the United States with her husband and older son where she continued her education. She received her MBA from California State University in 2004 when she was studying finance. Later, she received her Ph.D. in Information Systems and Technology from Claremont Graduate University in 2018 after discovering that was her passion.
"I had my bachelor's from the American University in Cairo. And I remember that yes. Jobs. It's very tough to get in Egypt. You would start feeling that women do not have the same opportunities as men. Once you start applying for jobs."

Dr. Vivian Sultan
During our Education section of Danielle Borgia's Gender, Race and Sexuality class, she talked about the staggering amount of men that receive their PhDs compared to women. Twice as many men go through with getting their Doctorate, and Dr. Vivian noted the small percentage of people in her field being women and said that this academic path requires a lot of money, time, and dedication, so it is not easy to fit in with most women's lives, especially women with children. She credits her success with having a good support system, but acknowledges that not many women have that privilege.
Careers.
When Dr. Sultan first came to the United States, she worked in private businesses and helped her husband with his furniture company. While receiving her MBA in finance, she took a job at Disney as an analyst. She was responsible for vendor-managed inventory accounts, replenishment planning, and new release and catalog. At this job, she felt as if she was not treated as fairly as in her later job at Edison.
"The entire company was mainly white male dominant."

Dr. Vivian Sultan
Vivian noted that all her mentors and peers were predominantly white men, and the women in her field never made it to the higher positions. This observation aligns with Audre Lorde's stance on the patriarchal lifestyle we are forced to consider the norm. Being surrounded by men is incredibly intimidating, especially when all of the people in our society that hold high positions are men. It is not even a matter of blatant sexism that does not allow women to climb up the corporate ladder; it is the normalization of white powerful men dominating this society that discourages women to even try.
"In America, this norm is usually defined as white, thin, male, young, heterosexual, Christian, and financially secure. It is with this mythical norm that the trappings of power reside within this society" (Lorde).

Audre Lorde
Dr. Sultan took a position at Edison after realizing her true passion was research and I.T., as a supply manager and consultant for the company. She is incredibly passionate about her research and works to develop new technology that reduces risk in the field and increases efficiency. She is also a professor at California State University, teaching young students about her research and the technological importance of her career.
"I feel like I'm adding a lot of value for the industry. And at the same time, I'm teaching. And that is also a job that inspires me a lot because I get the chance to work with young people to do research to continue, you know, all the work that I have already started the research work that I have started when I was in academia. So I think it's working well."

Dr. Vivian Sultan
Reflections.
Author Luvvie Ajayi Jones preaches for women to stand up and fight the urge of staying silent, and that is exactly what Dr. Vivian did. Vivian received an amazing education and never stopped going after her goals, by always speaking her mind and ignoring any microaggressions she faced. She kept pushing past the obstacles of being an immigrant and still received an incredibly prestigious education at such a young age while also being a mother.
"People and systems count on our silence to keep us exactly where we are. Now, being the domino sometimes comes down to being exactly who you are" (Jones 8:49).

Luvvie Ajayi Jones
Dr. Sultan never let the color of her skin, her gender, or her Middle Eastern accent stop her from accomplishing as much as she did. Instead, she focused solely on her skills. Her motivation and ability to push past the many obstacles really resonated with me, and they reminded me of Anne Mai Yee Jansen's account of pushing past the stereotypes and doing what she truly was passionate about. Jansen is an Asian American woman who struggled with stereotypes her whole life, even when pursuing her education. She writes that she wants her daughter to know that "her story is worthwhile, and that no matter what others may say, skin color is but one tiny facet of what makes her who she is" (Jansen).
Dr. Vivian Sultan's goal has been to not only advance technology and safety for the employees of Edison Power Company, but to also teach young women that they too can achieve so much in the same field. She pushed past the Egyptian stereotypes of being a stay-at-home mother, and never stopped working to find what she was passionate about and succeed in her field.
"For young women at your age, there is a lot that you do not know about yourself. A lot that you're going to discover about yourself. We are not only the same. Follow your passion. That's what I advise young girls."

Dr. Vivian Sultan
Citations.
Jansen, Anne Mai Yee. "What Are You?" Whiter, edited by Nikki Khanna, NYU Press, 2020, pp. 155–61.
Jones, Luvvie Ajayi. "Get Comfortable With Being Uncomfortable." TED Talks, TED, Oct. 2017,
www.ted.com/talks/luvvie_ajayi_jones_get_comfortable_with_being_uncomfortable/transcript?language=en.
Lorde, A. (1980, April). Age, Race, Class and Sex: Women Redefining Difference. Speech presented in Amherst
College, Amherst, Massachusetts.